Today was our first day in the vineyard – it's time to take our first samples for analysis. Typically the first grapes harvested are viognier (our only white grape), merlot, and shiraz, so we tested the blocks of those grapes that tend to ripen earliest. (Note: For those of you reading who aren't necessarily wine peeps – hi, Mom! – please excuse the technical jargon. And for those of you who are major wine peeps, please excuse the brevity of the technical jargon.
Blaauwklippen is even bigger than I thought – there are vineyards across the road next to our neighbors at Klein Zalze Estate as well as up the hills behind Blaauwklippen and across the road behind us. Each section of the vineyard has a name, a story, and a distinctive personality, which I'll get to in more detail in future posts (I have a couple buddies who work in the vineyard who will definitely have at least two cents to add!).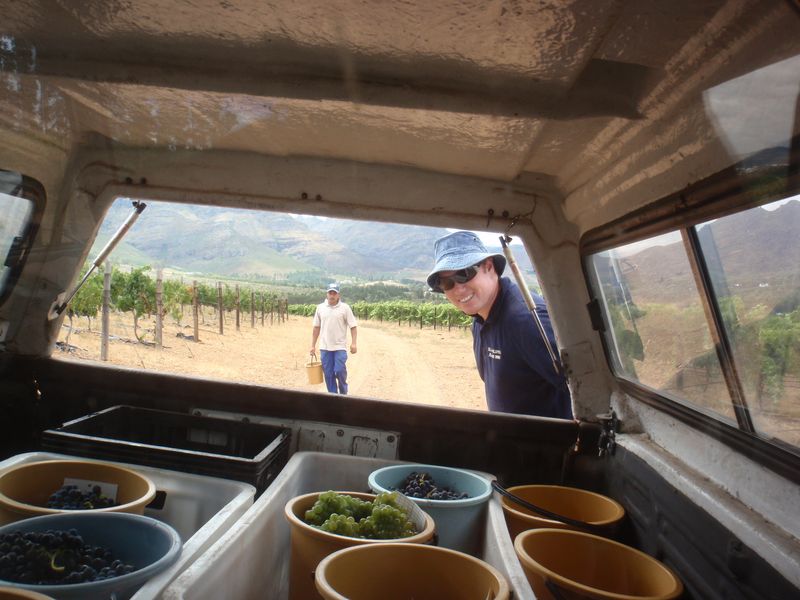 One interesting tidbit: for newer plantings, mostly up the hill towards the mountains, we've implemented a high-density system by which vines are planted closer together, about 1m x 1.5m, to force them to compete and struggle a bit more. I've made a point to do a vertical tasting in the next few days to see if I can pick up the differences; Albert says they've been getting really nice results in the newer vintages. For vines as well as for people, adversity is a great character builder.
After all this time in the dank, dreary cellar (though I'm not complaining – it's a break from the heat!) it was glorious to be out in the vineyard snipping clusters of grapes for sampling, and munching a few along the way. The merlot was extraordinarily sweet, but for all the grapes it was amazing to taste the difference from one block to another. Altogether we took eight buckets of grapes, each one from a different block.
Back at the winery, we hand crushed the juice (always one of my favorite parts) for analysis of Brix,or, as we call it here, Balling, which hovered around 21-22 for shiraz and merlot and 19-20 for viognier. Acidity was right where our assistant winemaker Albert wanted it, around 3.4 for pH and TA mostly between 8 and 9. I'm curious as to how much this will change in the next couple of weeks. In New York, we're known for wines with good acidity but often are concerned about getting Brix levels high enough, but here it's the opposite problem: hot weather means sugar levels are high but the acidity may be too low.
Though South African winemakers are legally allowed to add acid (they can't add sugar), and many do, our winemaker Rolf Zeitvogel has a very hands-off philosophy and doesn't like to acidify unless he absolutely has to. This year, Albert says, was cool enough that there shouldn't be any need to monkey with the natural acid levels.
Picking should be right on schedule with a start date of about the 15th of February. Until then, we're enjoying the calm before the storm. Tonight our little cellar team – Albert, Leon and Rodney the "kellergeisters", Christoph the other intern, and I – went out for a beer and some pizza at a Stellenbosch pub. In true South African multicultural style the menu included schnitzel, tzatziki, ribs, bangers and mash, soppressata pizza, burgers, and greek salad! I'm told we'll also have a braai the night before harvest. Christoph commented tonight that it's lucky we all get along as well as we do so far, and for the most part I'd say that's true. Occasionally Christoph's and my differences in background mean that we don't always see eye to eye: he was born into the wine business, working in his family's winery, and already has a "way" of doing things, whereas I have a fairly clean slate and just want to absorb as much as I can. But with a little patience on his part and a lot of hard work on mine I think we'll be just fine come picking time.
Julia Burke is a wine educator and writer.